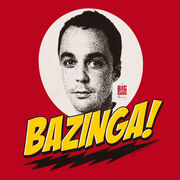 Bazinga è stato il forum dove i lettori suggerivano agli autori articoli e idee da pubblicare sulla rete.
Da quando su Lega Nerd tutti i lettori possono proporre direttamente articoli, il bazinga è stato chiuso e non viene più utilizzato.
Il nome deriva dalla tipica esclamazione che Sheldon Cooper utilizza dopo una battuta o uno scherzo nel telefilm "The Big Bang Theory". Se i "bazinga" vengono poi pubblicati gli autori inseriscono nel relativo post un riconoscimento al lettore che ha scritto il bazinga sul forum nella forma "Bazingato da xxx". Bazinga è quindi usato anche come verbo in varie forme, "me lo ha bazingato Tizio", "lo scrivo sulla Lega e dico che me lo hai bazingato tu!" o "bazingalo sulla Lega", ecc.
smiley: :bazinga:
Ad blocker interference detected!
Wikia is a free-to-use site that makes money from advertising. We have a modified experience for viewers using ad blockers

Wikia is not accessible if you've made further modifications. Remove the custom ad blocker rule(s) and the page will load as expected.