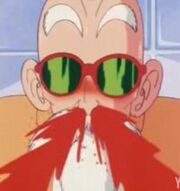 Sangue dal Naso / Epistassi
In un manga, per poter indicare l'eccitamento sessuale di un personaggio maschile, visto che disegnare parti anatomiche oscene era vietato dalla stretta censura nipponica, veniva usato l'analogia del sangue che usciva copioso dal naso, in termine medico epistassi. Sulla lega sono comuni commenti tipo "ommioddio, sangue dal naso!", "epistassi, epistassi!" o "tamponate, c'è troppo sangue" come segno di gradimento di un post NSFW o di una qualche immagine di bella figliola.
Ad blocker interference detected!
Wikia is a free-to-use site that makes money from advertising. We have a modified experience for viewers using ad blockers

Wikia is not accessible if you've made further modifications. Remove the custom ad blocker rule(s) and the page will load as expected.