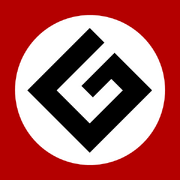 Si definiscono "Grammar Nazi" gli utenti particolarmente attenti al corretto uso della grammatica italiana e che amano fare notare gli errori commessi agli autori o agli altri utenti attraverso i commenti sul sito. Esiste anche uno smiley dedicato che è possibile utilizzare per connotare un commento come volutamente "grammar nazi", eccolo: :gn:
E' poi nato anche un movimento di resistenza ai Grammar Nazi che porta avanti la libertà di fare errori e avere sviste grammaticali su internet, anche loro hanno uno smiley dedicato, eccolo: :res:
Ad blocker interference detected!
Wikia is a free-to-use site that makes money from advertising. We have a modified experience for viewers using ad blockers

Wikia is not accessible if you've made further modifications. Remove the custom ad blocker rule(s) and the page will load as expected.