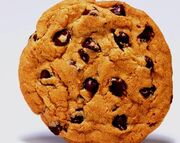 I Biscotti sono una tipica ricetta segreta del Nerd Club che appare in alcuni post alla domanda "chi lo vuole un biscotto?" e la cui risposta corretta è "Io Io".
Ogni altro significato della stessa è a discrezione del NC.
Per visualizzare il biscotto su Lega Nerd è possibile utilizzare il codice: :cookie:
Ad blocker interference detected!
Wikia is a free-to-use site that makes money from advertising. We have a modified experience for viewers using ad blockers

Wikia is not accessible if you've made further modifications. Remove the custom ad blocker rule(s) and the page will load as expected.