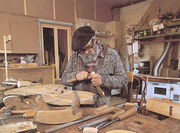 Dopo un commento dell'utente Durango del tipo "il mio falegname lo fa meglio per 10000 lire" è diventato un modo di dire comune sulla Lega. "Il falegname di Durango lo fa meglio" o simili è una delle risposte classiche a cosplayer improvvisati, mod non particolarmente riusciti, ecc.. Il tutto deve la sua esistenza a "Tre uomini e una Gamba", a questa scena (minuto 7:20)
Ad blocker interference detected!
Wikia is a free-to-use site that makes money from advertising. We have a modified experience for viewers using ad blockers

Wikia is not accessible if you've made further modifications. Remove the custom ad blocker rule(s) and the page will load as expected.