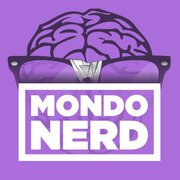 Mondo Nerd è il Podcast ufficiale di Lega Nerd: trasmesso via radio da Radio Versilia tutti i giovedì sera e disponibile in podcast tutti i sabati, Mondo Nerd si occupa degli stessi argomenti trattati dalla Lega e anche di più. Interviste ai protagonisti delle nostre passioni e la presenza ai principali eventi italiani e non con reportage accurati fanno di Mondo Nerd un contenuto imprescindibile per chi si interessa della Nerd Culture in Italia.

La trasmissione radiofonica Mondo Nerd nasce dall'idea di due personcine stralunate, il giornalista e showman Giacomo Lucarini e l'esperto di informatica, blogger e nerd di prima categoria Alberto Macaluso.
In modo del tutto arbitrario, folle e squinternato scandaglieremo gli angoli tenebrosi delle menti di chi ama, anzi adora la cultura pop, l'informatica, i fumetti, i libri e il cinema "pulp", i giochi di ruolo.
Ci inoltreremo nel sottobosco dove vivono una miriade di ragazzi e "vecchi ragazzi" che perennemente affollano i siti internet, fumetterie, happening dal vivo, convention d'informatica e negozi di elettronica!
Per cui il consiglio è di non perdere le nostre elucubrazioni e chiacchiere intelligentemente stupide, le recensioni degli ultimi modelli di telefonini e oggetti tecnologici, videogames, le interviste a personaggi "cult" del panorama italiano… e non solo… metteteci tra i preferiti, settateci come homepage, fondate una setta di cui saremo idoli, contribuite con noi a fare del sano Nerd-style!
Ad blocker interference detected!
Wikia is a free-to-use site that makes money from advertising. We have a modified experience for viewers using ad blockers

Wikia is not accessible if you've made further modifications. Remove the custom ad blocker rule(s) and the page will load as expected.