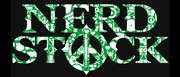 thumb|300px|rightOgni anno Lega Nerd organizza un party imperdibile in giro per l'Italia.
Nel 2011 il primo Nerdstock si è tenuto a Bologna: centinaia di nostri iscritti hanno affollato un'intera discoteca presa appositamente ballando musica elettronica con live, dj set, un dj set in streaming video in diretta dal Giappone, videogiochi, retrogaming, attività di ogni tipo e, in generale, l'evento nerd più NT d'Italia.
Ad blocker interference detected!
Wikia is a free-to-use site that makes money from advertising. We have a modified experience for viewers using ad blockers

Wikia is not accessible if you've made further modifications. Remove the custom ad blocker rule(s) and the page will load as expected.