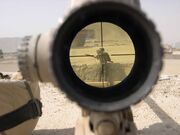 Lo sniper (il cecchino) è l'incubo dell'autore. Il suo credo e la sua unica fonte di gioia consistono nel trovare alla velocità della luce errori, sviste e refusi in un post, e infilzarli ad imperitura memoria in un commento con la stessa voluttà con cui un collezionista infilza farfalle su un quadro. Lo smiley :sni: identifica questa perversa tendenza.
Vige la regola di contare fino a 300 secondi dopo la pubblicazione dell'articolo prima di "sniperare" qualche errore grammaticale.
Ad blocker interference detected!
Wikia is a free-to-use site that makes money from advertising. We have a modified experience for viewers using ad blockers

Wikia is not accessible if you've made further modifications. Remove the custom ad blocker rule(s) and the page will load as expected.