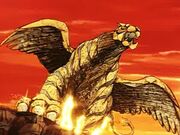 虎の穴 (Tora no Ana) è un'organizzazione criminale immaginaria inventata da Ikki Kajiwara ed inserita come principale antagonista del manga L'Uomo Tigre. I suoi adepti sono sottoposte a prove di incredibile crudeltà e ad allenamenti brutali al limite della tortura per addestrarli ad essere i migliori combattenti del mondo. Leggenda vuole che ogni legaiolo, per diventare autore, abbia prima superato tutte le prove previste dall'addestramento di Tana delle Tigri, in special modo l'attraversata a nuoto della piscina di catrame bollente.
Ad blocker interference detected!
Wikia is a free-to-use site that makes money from advertising. We have a modified experience for viewers using ad blockers

Wikia is not accessible if you've made further modifications. Remove the custom ad blocker rule(s) and the page will load as expected.